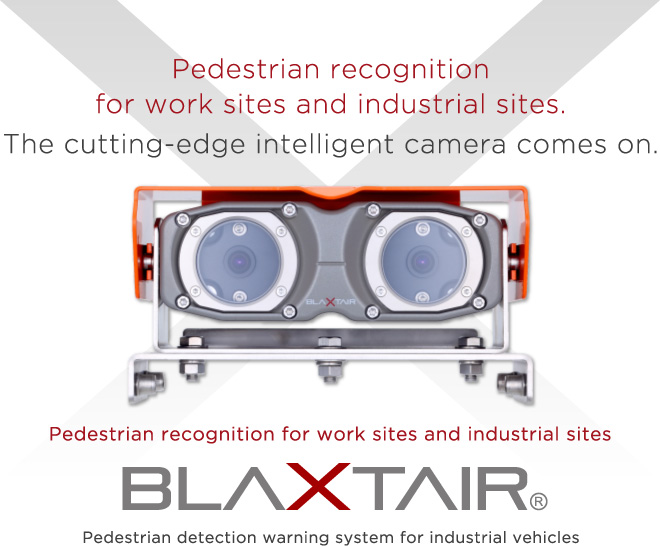 Blaxtair® is an intelligent on-board camera which helps to prevent collisions
between construction machinery/forklift and pedestrians/workers.
With the durable wide-angle stereoscopic camera, the current situation is analyzed
at high speed and the operator is warned only if there is danger of a collision.
---



---

Blaxtair® is an intelligent camera system that distinguishes
between people (pedestrians and workers) and obstacles to
issue an alert in the workplace.
Blaxtair® can judge what should be detected, which traditional systems for obstacle detection (ultrasonic or HF radars) cannot do, and will issue an alert only when people (pedestrians and workers) are in danger. The system does not sound continual alarms near an obstacle, along a wall, or between adjacent racks.
Product presentation movie
Setting to detect only people (pedestrians and workers)

When a person (pedestrian or worker) enters the detection zone, the monitor screen in the cabin issues an alert (warning) and the alert lamp activates at the same time to notify the operator of the danger.
If an obstacle is sensed within the detection zone, a green frame appears on the monitor
screen to urge caution but no audiblealarm sounds.

If a person is sensed within the detection zone, a red frame appears.
The alert lamp turns on and an audible alarm sounds.

Cutting-edge technology to discriminate between pedestrian and objects
The heart of the system is the stereoscopic camera developed by Arcure in France The heavy duty design can withstand harsh environments. Blaxtair's performance is based on patented image processing technology developed over the past 15 years by researchers from CEA-LIST (laboratory of applied research on software-intensive technologies of the French Alternative Energies and Atomic Energy Commission).
---


People (pedestrians and workers) and other obstacles are discriminated and an alert is issued when a person is detected.

An alert is issued regardless of people (pedestrians and workers) or other obstacles.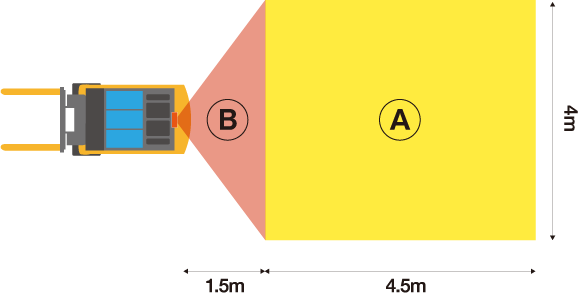 *The detection zone can be specified arbitrarily in the range from 0.3 m to 6 m within the
120-degree field of view of the camera for both A and B.
(A person cannot be recognized if only a part of a human body in the view angle is captured.)
*Detection zones A and B can be set up independently per camera.
---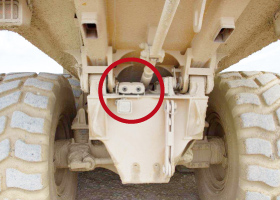 It works without any problems if it is mounted at the rear of a super-large off-road dump truck exposed to dust and mud.

Blaxtair® is designed for the harsh environments of construction sites and cargo handling workplaces. Blaxtair® full performance is confidently assured under all conditions (low light conditions, dust, rain, etc.). It is easy to use and does not require any specific mainte-nance.
---
HOW DOES BLAXTAIR® COMPARE TO TRADITIONAL DETECTION SOLUTIONS?
Blaxtair®
Specific pedestrian detection
Accurate localisation of the obstacles
Additional visibility provided
Pertinent alarms+ No interference
Radar, Ultrasounds, HF
All obstacles detected
No additional visibility provided
No discrimination made between pedestrians and obstacles
Untimely alarms
Radio-Frequency RFID
Tag detection
No additional visibility provided
Imprecise localisation
Interference(with mobile phones, metallic grounding)
Single camera
Visibility provided
No detection
No alarm
Passive system
Set contents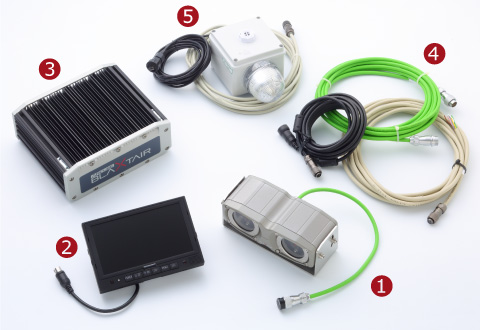 ❶

Stereoscopic camera

❷

Monitor

❸

Controller

❹

Harness

❺

Alert lamp (optional)
Two cover types available for your situation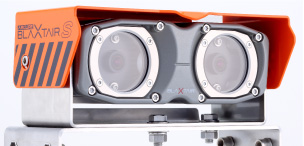 ●

Industrial product line

For industrial vehicles used for cargo handling and logistics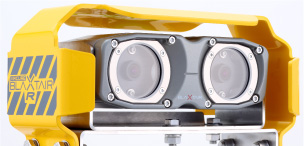 ●

Rugged product line

For vehicles in especially harsh environments, such as construction worksites
BLAXTAIRview®
BLAXTAIRview® is a premium camera system improving safety around industrial vehicles. Its wide field of view cameras display a color high resolution image. BLAXTAIRview® provides a good situational awareness even in very low illumination environment by switching automatically to infrared when necessary.Compatible with Blaxtair® system, BLAXTAIRview® accepts up to 3 cameras and a Blaxtair® together. All videos are displayed on the same monitor.
Application examples
Blaxtair® can be mounted on any industrial vehicle.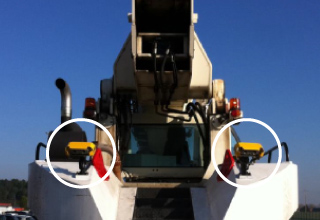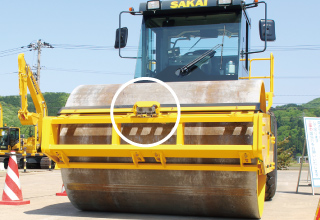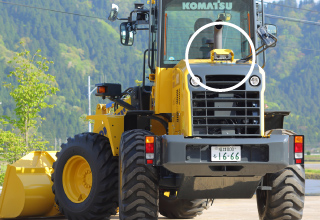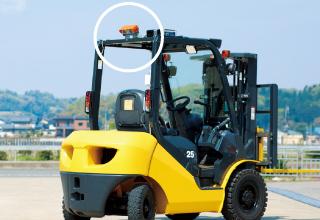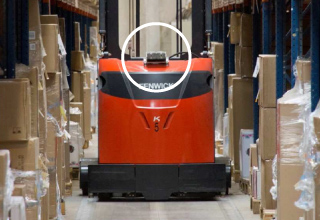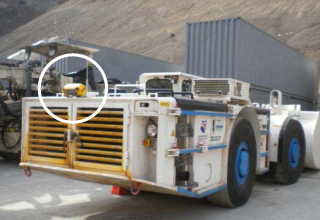 Contact
EUREKA Ltd.